Thursday, September 10, 2015
As the seasons change we landscapers mark the transition by the phone calls and emails we receive. Spring might as well be called 'Ring'. The. Phone. Doesn't. Stop. From spring we move into summer when families head out for vacation, and our office enjoys the sound of crickets…and not much else. Okay, I'm exaggerating just slightly, but you get the idea. The schedule is full, and summer phone calls and emails are handled in stride with landscaping projects usually booked for August and September. With the approach of Labour Day and the kids' return to school…known around here as 'the most wonderful time of the year'…the phone calls and emails start rolling in again as parents begin taking stock of the list of outdoor projects which for one reason or another, didn't get done. Fortunately, by the time Labour Day arrives our crews are wrapping up most of the work that was booked in the spring and summer and are looking forward to fall landscaping temperatures.
How does your to do list look? Have a project that just didn't happen this summer? I myself am a classic procrastinator. (I'll bet you didn't just guess that by looking at the time lapse between blog posts.) As weird as it seems, once I do finally get around to making the call to have a project started, I am impatiently looking for someone to get it done now. Sound like anyone you know?
Lucky for you and me, there are businesses out there that are ready and able to accommodate procrastinators like us. Just in case you need further convincing as to why your landscaping project shouldn't wait until spring, I've put together a list of reasons to get it done now.
3 Reasons to Get it Done Now:
1. The Weather
Two years of late springs and early winters may have lulled you into adopting a Western Canadian outlook on the landscaping season. You know what I'm talking about…when a late spring arrives in June and an early winter comes in August? FYI this is reason number 86 that this landscaping family doesn't live in Alberta. Fortunately this winter's weather outlook is slightly more reasonable. According to the Weather Network we can expect the usual unpredictable weather, but at acceptable times of the year, with slightly more acceptable temperatures. This means that there is a good 6 weeks of landscaping season left in this year, and if the weatherman's science is sound, we'll be back at it in March next year.
Get it done now, before the ground freezes up. Our crews are well equipped to work in cold weather and still ensure a top quality project. Fall is an optimum time to plant trees, shrubs and perennials as they are just heading into dormancy and will happily establish themselves next spring when the weather warms up.
2. The Budget
Throughout the year, we educate our clients on the importance of establishing a budget early on for their landscaping projects. A quick scroll through our blog will give you an idea of just how important this topic is to us, and why it should be important to you too. For those who have been dreaming of a new outdoor living space and who have a realistic budget, waiting until spring may not be the best option. I'm not just saying this so that we can keep the crews moving, but because no matter which way you lean politically, from year to year the cost of materials, fuel and labour don't go down. Ever. By completing your project this fall, you will also avoid the dreaded half-load restrictions which each township or county places on rural roads during the spring thaw. This cuts the amount of weight our trucks can carry to job sites in half and adds cost to spring projects. Thanks to Rob Abbott of Village Builders for explaining half load season so well in his blog.
Get it done now, while your dream still matches your budget! Mr. Picture Perfect is ready to meet with you to help plan your project from design to completion. Even just having the 'heavy work' done this fall will help save money on your landscaping project in the spring.
3. The Wait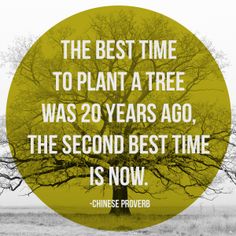 Just between us procrastinators, I have a hard time with this little proverb. There are a thousand reasons why I didn't plant the darn tree 20 years ago. A few examples: I didn't have time. I didn't have the funds. No one returned my call. I couldn't decide on the right tree. Sound familiar? I have heard them all and used most of them myself. What I have learned is that once I finally get the project that I've been putting off done, I've never regretted it. One thing that we can all count on is that by the time winter is behind us there will be a great number of former procrastinators champing at the bit, ready to start the landscaping project that they have been putting off. Why not jump the queue?
Get it done now, before the spring line up forms and the schedule fills up. Assess your budget, revisit your dream, and let us help you develop a plan. Forget 20 years ago…the past is in the past. Right now is the perfect opportunity to contact our company in order to get your fall landscaping project underway.